Charles Vess' Book Of Ballads (Original Art Edition - Signed Edition)
By Titan Comics
$100.00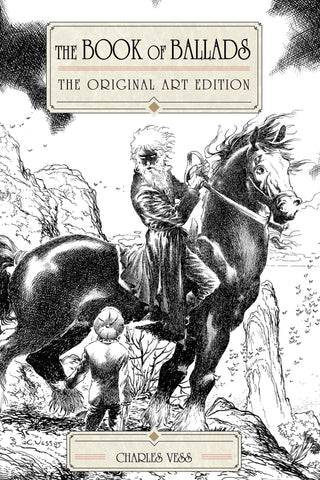 *Charles Vess is one of the most acclaimed and beloved artists in the fields of comic books and book illustration
*Features renowned New York Times best-selling and award-winning science fiction and fantasy writers including Neil Gaiman, Charles de Lint, Sharyn McCrumb, and Jane Yolen.
*Featuring breathtaking and award-winning artwork
*The original artwork is stored in the United States Library of Congress, who have granted Titan Books special permission to access it for publication.
*The Book of Ballads is the winner of the Eisner Award. Charles Vess has won the Inkpot Award, and the World Fantasy Award for "Best Artist."
*This limited edition oversized deluxe hardback collection includes an illustrated tip-in sheet signed by Charles Vess.
EDITORIAL SYNOPSIS
The great songs and folktales of the English, Irish, and Scottish tradition reimagined in comic book form by some of the most famous fantasy and science fiction authors of the 20th century, including Neil Gaiman (Sandman), Charles de Lint (Widdershins, The Onion Girl), Jane Yolen (Lost Girls, Briar Rose), Sharyn McCrumb (The Ballad of Frankie Silver), Jeff Smith (Bone), and more.
BIBLIOGRAPHIC DETAILS
Charles Vess' Book Of Ballads (Original Art Edition - Signed Edition)
Written by Neil Gaiman, Charles de Lint, Sharyn McCrumb, and Jane Yolen.
Illustrated by Charles Vess
ISBN: 9781785865015
Format: Hardback - oversized
Size: 10" x 15"
Pages: 160pp
Pub Date: November 14, 2017